Home Health Care Rancho Santa Fe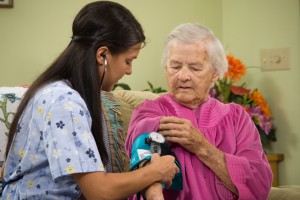 We are Proud to Offer Licensed Nurses and Caregivers to Help Elderly Adults Continue to Live in Their Homes.
Both a Department of Health Care Services license and an Alzheimer's Association certification have only been given to one Home Health Care agency in San Diego, Firstat Nursing Services.
Firstat Nursing Services helps injured, disabled and elderly individuals in the Rancho Santa Fe area by providing home care, home nursing and home health.
Here are some of the services we offer: meal preparation, personal care, light housekeeping, medication administration and reminders, errands, shopping and companionship.
Families and patients get to see the Firstat Nursing Services philosophy every day, "Where Care Comes First". We want our patients to experience safe, high-quality service which is why we ensure our employees and nurses are screened, licensed and bonded. Whether the patient lives at home or an Independent or Assisted living facility, Firstat Nursing Services provides RN, LVN and CNA care.
• Our Alzheimer's Association certification makes us proud.
• Patients get the best care from Firstat Nursing Services because we train our nurses on diseases like Alzheimer's and dementia.
• Our nurses are educated continuously, giving Alzheimer's patients the highest quality care.
• When letting a Firstat Employee care for your loved one, families can feel comfortable when they leave.
• When caring for the patient Firstat will take on most of the responsibilities, giving the family's caregivers a chance to relax.
• Firstat will provide services for patients in their home, assisted living or independent living facility.